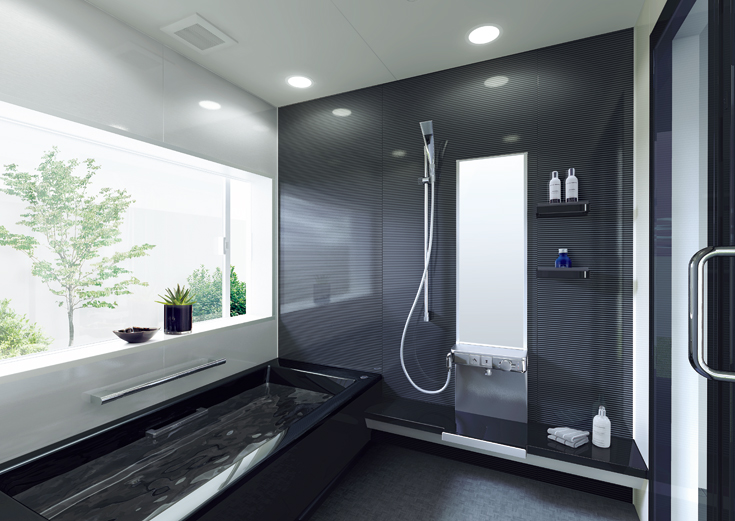 The Japanese bathtub, and it's associated rituals plays an important role in Japanese culture. Here, the indulgent aspect of the bath is emphasized, whether that be at home, at the public bath-house (sento), or at 'onsen' hot springs throughout Japan.
Whether at home or at an onsen, the Japanese bath experience amounts to much more than simply washing off. For many Japanese, bathing is an important part of the daily ritual, usually carried out at the end of the day before bed. The process is broken into two distinct parts; cleansing of the body with soap using the handheld shower, and then cleansing of the soul as one soaks away the stresses of the day in the deep tub.
Wet Areas
Although it is increasingly becoming more popular in the west, the Japanese have traditionally separated the wet areas of the bathroom from the dry areas accommodating the toilet and sink. One disrobes in a changing room with a vanity and sink before entering the waterproofed bathroom. The wet area contains a combined shower and faucet which is installed at a low level against one wall (typically 40-50cm above the floor). The Japanese tend to sit down on a small stool to shower (onsen style) and there is usually a mirror above the faucet for men to shave in. There is often a rain shower overhead for western style showering as well.
Bath Units
Most bathrooms in Japanese homes are "unit-baths" – meaning that the entire bathroom (walls, floors, ceiling, bath, shower, drainage, and door) are sold as a single product or 'unit'. These prefabricated rooms are mostly made from molded plastic but the sophistication of the products and the technology are impressive. Two manufacturers, Toto and Lixil dominate the market and offer a range of features including automatic bath filling, bath temperature control, spa bath options, built-in TV's, sound systems and even colored mood lighting in a relatively cost efficient package. These units can also incorporate a window so you can enjoy the view while relaxing in the tub.
Many higher end properties create the same ergonomic efficiency of the unit bath in a custom tiled bathroom often utilizing luxury imported fixtures such as Grohe taps and shower heads.
For more information on incorporating some of the spa-like indulgence of a Japanese bath into your home, contact the team at Niseko Projects. We're happy to help.